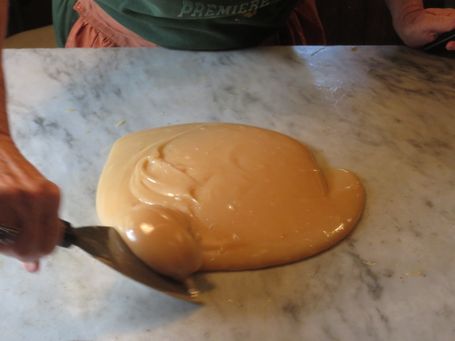 Sometimes going back in time can be a wonderful experience. Four generations came together this week to make fudge. Not just any fudge but my Grandmother's fudge that must be worked on the marble.
The technique is one that has disappeared over the years, except to direct family members. My grandmother might not have been present but you would never believe it :)
Grammie used to have one of the very first candy shops on the island, called Orr's Island Candies. She only had my grandfather and one wonderful lady to help her make all her candies. It is nice to remember how things used to be, watching them work the fondants on the marble and hand dipping each individual piece in the hot rich dark chocolate. There were the fudges like we did the other day and peanut brittle, caramels and all the varieties. I believe there were over five different fudges, three caramels, nougat and well over thirty flavors of hand dipped chocolates.
It is a shame these techniques of real candy making have been lost; some advancement aren't always as good as the old way.
I am fortunate to have lived this part of our family history and experienced the art first hand. I've smelled the unique flavors like lemon that makes you mouth water and peppermint that will open yours sinus in a rush. The rich colors that come to life as the fondant is worked on the marble are marvelous to see.
My memories are warm and filled with love during a gentler life and sometimes I wish I could really turn back the hands of time and get lost in the past.
Jewel